FAQs On Board Accommodation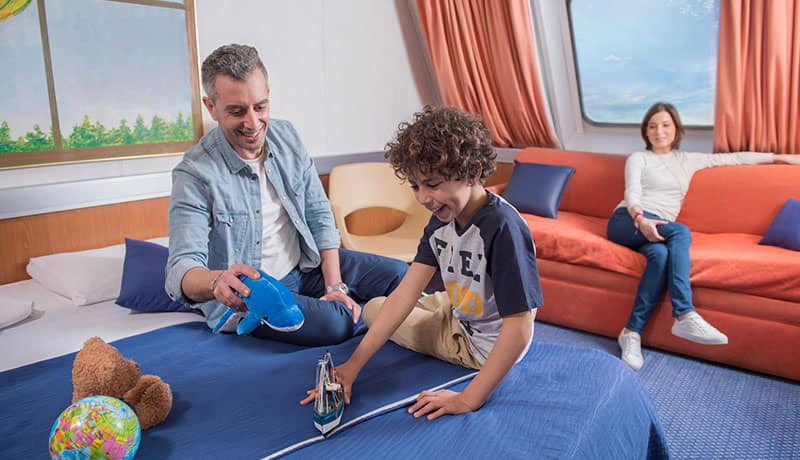 Didn't find the answer you were looking for? To request further information, Click here
Yes, the accommodation assignment is done automatically during check-in and indicated on the boarding passes that you will receive at the time of departure.
For more information regarding your accommodation, contact the on-board staff.
If I book a cabin do I have to share it with other passengers?
All cabins are for exclusive use.
You will find the number of beds indicated (e.g.: 3 or 4), but the cabin is automatically booked for the number of passengers you request.
This means that you will not share the cabin with anyone else.
The only exception is the shared formula that allows you to save by sharing the cabin as a bunk.
In this case you will find "MALE SPOT in internal cabin with 4 beds/FEMALE SPOT in internal cabin with 4 beds" or "MALE SPOT in seaview cabin with 4 beds/FEMALE SPOT in seaview cabin with 4 beds".
If there are no more cabins available, is there a waiting list?
There is no waiting list.
If there is no availability for the chosen accommodation, you can choose another or change the departure date.
What is the difference between a standard cabin and a suite?
The suite is a large cabin with a double bed, sea view, mini-bar, and TV.
Can I stay in my car during the ferry trip?
It is forbidden to remain in the vehicle during the crossing.
What is there in a cabin? What are the services provided?
The cabin has sheets and towels, and private bath with shower and hair dryer. Bring any personal effects you need for the duration of the trip.
Why do I have a cabin with four beds if there are only two of us?
The cabins have four beds since they are convertible but are only occupied by passengers who have booked.