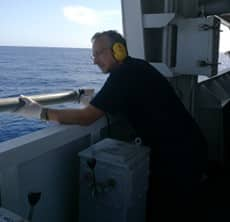 GNV RINNOVA LA COLLABORAZIONE CON INGV ED ENEA PER MONITORARE LA TEMPERATURA DEL MAR MEDITERRANEO
Genova, 27 giugno 2023 - GNV (Gruppo MSC), in occasione della partecipazione a The Grand Finale, la tappa conclusiva di The Ocean Race il giro del mondo a vela in equipaggio, rafforza la collaborazione con i ricercatori dell'Istituto Nazionale di Geofisica e Vulcanologia (INGV) e di ENEA, l'Agenzia nazionale per le nuove tecnologie, l'energia e lo sviluppo economico sostenibile, ribadendo il forte impegno e l'importanza della ripresa e del mantenimento nel tempo delle attività di monitoraggio della temperatura delle acque del Mar Ligure e del Mar Tirreno lungo la tratta Genova-Palermo.
Dal 1999 GNV mette infatti a disposizione le proprie navi a scopi scientifici in collaborazione con INGV ed ENEA, ed in particolare dal 2021 nell'ambito del Progetto Istituzionale di ricerca "A Multidisciplinary Analysis of Climate change indicators in the Mediterranean And Polar regions" (MACMAP).
Anche quest'anno la Compagnia metterà a disposizione le sue unità, in particolare sulla linea Genova-Palermo, consolidando così il traguardo delle 100 campagne di monitoraggio raggiunto pochi giorni fa. Sarà così possibile continuare un'attività che ha consentito la costituzione di una serie ventennale di dati della temperatura del Mar Mediterraneo, unica per durata e accuratezza.
"Siamo molto orgogliosi di far parte di questo progetto e di ospitare sulle nostre navi i ricercatori di INGV ed ENEA rendendo così possibile la raccolta di dati per il monitoraggio dei nostri mari. Da oltre vent'anni GNV collabora scienziati e ricercatori che si occupano di vari ambiti dell'ambiente marino, contribuendo di fatto a proteggere e preservare l'ecosistema" Afferma Mattia Canevari, Energy & Environmental Manager di GNV.
Franco Reseghetti (ENEA) – responsabile dell'attività di monitoraggio
Con il lancio in posizioni prefissate di sonde che possono raggiungere la profondità anche di 1800 metri, saranno acquisite nuove misure di temperatura della colonna d'acqua lungo la linea Genova-Palermo, e questi nuovi dati saranno utili a valutare la variazione del calore dei mari Ligure e Tirreno.
Questo tipo di monitoraggio, che avviene con cadenza stagionale, riveste un'importanza strategica nella ricerca scientifica e nelle sue applicazioni, fornendo preziose informazioni per lo studio del clima, per lo sviluppo e il mantenimento di servizi meteo-marini operativi e per la salvaguardia del prezioso ecosistema marino.
"Abbiamo voluto proseguire un'attività di monitoraggio strategica poiché riguarda l'unica tratta operativa nel mar Mediterraneo all'interno dello Ship of Opportunity Program (SOOP) in ambito UNESCO. Raccogliere sistematicamente dati di temperatura dell'oceano ci permette infatti di valutare l'andamento del suo contenuto di calore, il principale indicatore del riscaldamento globale in atto. La partnership con GNV è di fondamentale importanza per la sua sostenibilità." Afferma Simona Simoncelli, ricercatrice INGV.
Linee di monitoraggio della temperatura dell'oceano (XBT) mediante navi volontarie (Ship of Opportunity Program, SOOP), un programma del Sistema di Osservazione Globale dell'Oceano (GOOS) coordinato dalla Commissione Oceanografica intergovernativa (IOC) dell'UNESCO.
Fondata nel 1992, e oggi parte del Gruppo MSC, GNV è una delle principali compagnie di navigazione operanti nel settore del cabotaggio e del trasporto passeggeri nel mondo: con una flotta di 25 navi, la Compagnia opera 31 linee in 7 Paesi, da e per Sardegna, Sicilia, Spagna, Francia, Albania, Tunisia, Marocco e Malta.